Looking for a Marriage Celebrant in Perth?
My name is Connie and I love my job. I get to do the most important part of the wedding. I get to announce to the world that my couples are now husband and wife. It is such a happy moment and I take pride in delivering ceremonies to the best standard possible. Other than having my son, my wedding day was one of the best days of my life and marrying my best friend and soul mate of twelve years in front of my nearest and dearest was something I will cherish and remember a lifetime.
One thing that made my ceremony so special was our celebrant!!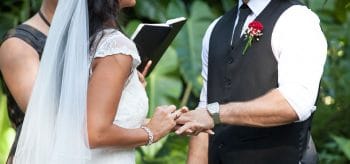 Like myself, she was happy, bright and bubbly and no matter where my guests stood she was heard. Attributes I possess.
Getting married is a happy time and you should be married by someone who not only knows her stuff, has been trained by the best, but is also down to earth and will make you feel at ease and help make your dream day a reality.
Getting married is a serious commitment and all legalities must be done correctly to be legally married in Australia.
I know my stuff and along with making you feel completely comfortable, my clients can feel assured all legals will have been done correctly and in accordance with the Marriage Act 1961.
With all the planning that goes into a wedding, you wont have to second guess your celebrant choice. I am Perth based but
are more than happy to travel to be involved in your special day.
I have always enjoyed writing and I love telling a good story or two; so let me tell your story and get you married!!
I look forward to hearing from you soon and talking about your big day.
Together lets create your dream Ceremony
If you would like more information, please go to my Contact Page and I will get back to you as soon as possible
Mobile: 0405 901 810
Connie x